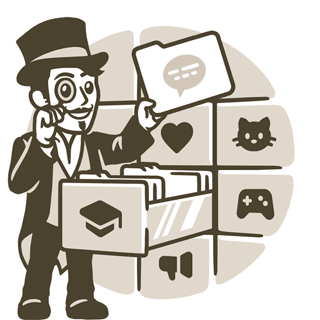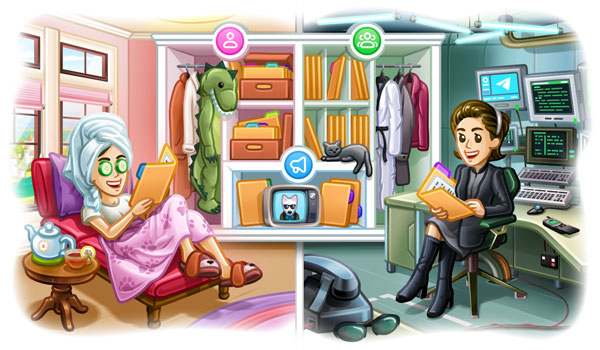 Kullanıcılarımızın çoğu çalışırken ve eğitim çalışmalarında Telegram'a güveniyor. Herkesin sohbet listelerinin artan yükü kaldırabilmesini ve önemli mesajları kaçırmadığından emin olmak için, bugün Sohbet Klasörleri'ni tanıtıyoruz.
Çok fazla sohbetiniz varsa, artık eğlenceyi işten veya aile öğelerini okul öğelerinden ayırabilirsiniz. Ardından sohbetlerinizden herhangi birisine hızlı bir şekilde erişmek için sekmeler arasında geçiş yapın.
Kanallar veya Okunmamış gibi belirli bir türdeki ya da tek tek tüm sohbetleri ekleyebilir veya hariç tutabilirsiniz.
Sohbet listeniz karmaşıklaşmaya başlayacak kadar uzun olduğunda klasörler arayüzde kullanılabilir hale gelir. Alternatif olarak, Sohbet Klasörlerini etkinleştirmek için uygulamanızda bu bağlantıyı kullanabilirsiniz.
Sınırsız Sabitleme
Klasörlerinizin her birinde istediğiniz sayıda sabitlenmiş sohbet olabilir.
Arşivlenen Sohbetler
Chat Folders work best to make some of your chats more visible. If you're looking to hide some of your chats from view, try archiving them instead.
Swipe left on a chat to transfer it to your archived chats folder. When an archived chat gets a notification, it will pop out of the folder and back into your chat list. Muted chats will stay archived forever.
You can hide the archive by swiping left on it. See it again by dragging the screen down.
On Android, if you are already using Folders, swiping will not work for archiving. Instead, you can long press on a chat to open the bulk actions menu where you can select multiple chats and then pin, mute, archive or delete them all at once.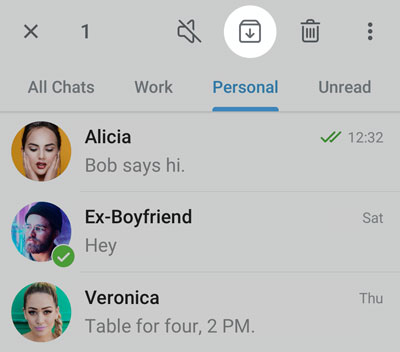 Desktop Sync
Like everything on Telegram (except for Secret Chats), your Chat Folders will seamlessly sync to all your other connected apps, including our Desktop Apps.
Thanks to the extra space available on your computer screen, we've added a folder sidebar – as well as some icons to make your folders more recognizable:
Get the multiplatform Telegram Desktop or our dedicated macOS app. If you're not using those, you're only enjoying half of Telegram.
Channel Stats
If you have a channel with more than 1000 subscribers, you can now view detailed statistics about its growth and the performance of its posts.
With this information, you can find out what's working and what's working really well. Hint: Cat Pictures.
Voice Recording Animations on Android
Our designers added some fancy wavy animations below your finger when you're recording a voice or video message.
Tip of the day: Did you know you can slide your finger up to lock recording and keep talking without holding the button?
New Animated Emoji
The latest additions to our army of animated emoji can help you be brave and urge your friends to stay safe and healthy. Send

,

,

,

,

,

,

,

,

,

or

to any chat to check them out.
Most of our sticker packs now also have something to say about the situation. Type

in any chat and wait to see the suggestions:
And One More Thing
Missing your Catan or D&D partners while the world is on lockdown? Send

to any chat to get a certified random number from the animated dice.
Besides trying to test your luck, you can also use it as a tiebreaker if a group poll or friendly debate ends in a split decision. Pick a number – the closest one wins!
Stay home, stay safe and stay tuned for our next updates!
30 Mart 2020,
Telegram Ekibi